We are an accredited tourism operator in the business of creating memories to last a lifetime.
Scenic Flights
Private Charters
News Media
Aerial Photography & Cinematography
Helicopter Transfers
Heli-Fishing
Delivering Your Dream Experience
Coolibah Air, proudly operated by North Australian Helicopters, is solely owned by Milton Jones, a hardworking Northern Territorian, with mustering in his blood who bought a cattle station, Coolibah in 1988. Coolibah Air was named after the huge cattle station in the Northern Territory, which is, home to 'The Joneses' a family who have become television stars after a reality documentary based on their life on the station aired on national television in 2010.
Coolibah Air is the tourism arm of North Australian Helicopters Pty Ltd, North Australian Helicopters (NAH) has been operating since 1993 with bases in Darwin, Katherine, Jabiru and Mt Isa  
Let us plan the journey of a lifetime!
Coolibah Air doesn't just operate joy flights but rather journeys; over the vast and formidable terrain that is Australia's Outback. Take to the air to see awe-inspiring; wild rivers, deep gorges, spectacular waterfalls and rugged escarpments all while hearing about the rich aboriginal and pastoral history, stories of colorful outback characters and about the adventurous lifestyle that the Northern Territory is renowned for.
Coolibah Air can also provide tailor-made charters or expeditions that can include unforgettable visits to Indigenous rock art sites with Indigenous guides, Heli-fishing at some of the most remote and spectacular sites in Australia, and trips to outback stations and pubs to meet remarkable & fascinating Aussie characters.
With helicopter bases around the Northern Territory's Top End, Coolibah Air has scenic experiences over some of the most beautiful and dramatic wilderness regions in the top end from Victoria River to Katherne Gorge - Nitmiluk Gorge, Adelaide River, Litchfield National Park, Kakadu and Darwin. There are a range of helicopter flights to suit all budgets and Coolibah Air package up Heli tours with other fantastic iconic experiences like the Adelaide River Jumping Crocodile Cruise coupling the best that Northern Australia has to offer.
Our fleet of helicopters comprises of twenty-two Robinson R22s, thirteen Robinson R44s, one Robinson R66, four Bell 206 Jet Rangers and two Bell 206 Long Rangers.
Coolibah Air is the tourism branch of North Australian Helicopters Pty Ltd. NAH is owned and operated by
Milton Jones since commencement of operations in 1993.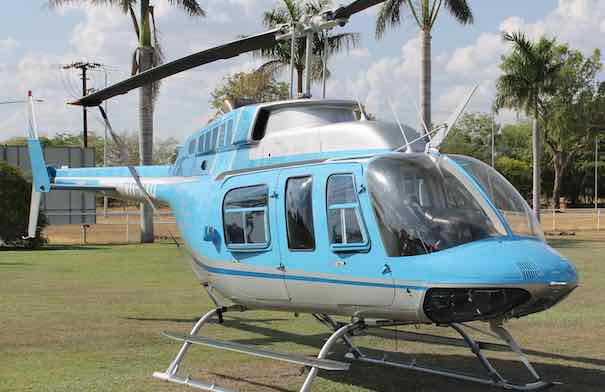 Bell 206 Long Ranger
Robinson 44
Robinson 66