Adelaide & Mary River Wetlands Scenic Flight Adventures
Jumping Crocs Joyflight 
Approx. 10 min scenic flight
Fly over the crocodile infested Adelaide River then on to the food plains to spot wild pigs and buffalo. On this brief but intense joy fight you will get an insight into one of the Territory's icons, the saltwater crocodile. Also hear about other wildlife that is renowned for thriving in this remarkable habitat.
Tour Code AMWO1 Price p/p $110
Corroboree Billabong Scenic Experience
Approx. 30 min scenic flight
Corroboree Billabong, part of the Mary River Wetlands has the largest concentration of salt water crocodiles in the world. The pristine wetlands and abundant wildlife are breathtaking to see from the air.
Tour Code AMW03 Price p/p $315
The Ultimate Wetland Scenic Tour
Approx. 60 min scenic flight
This incredible tour of some of the most picturesque scenery in the Top End takes in billabongs, rivers, foodplains and majestic coastline.
There is pristine wilderness as far as the eye can see. Along the way you will see why the coastal wetlands are one of the rarest and most threatened land systems in the world. The landscape is abundant with wildlife. You may see crocodiles, buffalo, pigs, and a multitude of bird life so get your camera ready!
Tour Code AMW04 Price p/p $630
Heli-Fishing Private Tour
Our exclusive fishing spots are known for their big catches, and we'll take you straight to where the Barra are biting as you swap the thunder of rotors for the quiet, peaceful calm of the riverbank.
Half-day, full-day and multi-day trips available or let us tailor a heli-fishing package you'll never forget!
Email your request to our sales team and they will help you land your fish.
Coolibah Air is the tourism branch of North Australian Helicopters Pty Ltd. NAH is owned and operated by
Milton Jones since commencement of operations in 1993.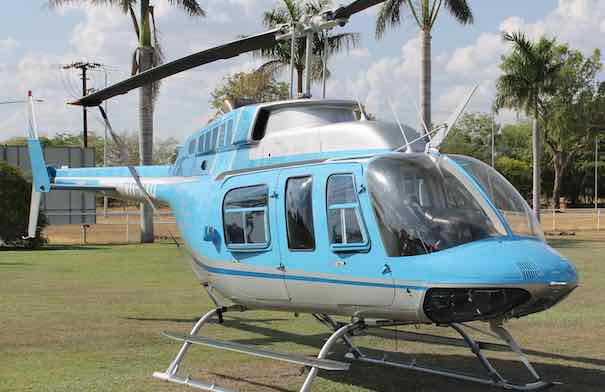 Bell 206 Long Ranger
Robinson 44
Robinson 66