Private Charter
Our helicopter charter services can get you anywhere from point A to B right across the Top End of the Northern Territory.
Take the hassle out of finding and booking the most unique and memorable experiences in the Northern Territory by letting us make all of your arrangements. Our reservations department has thorough knowledge of the Northern Territory tourism industry and can tailor a private helicopter charter to your requirements. We can coordinate memorable experiences for business, tourism, incentive groups, fishing enthusiasts, photographers, bird watchers and many more specialist groups. Make an enquiry with our sales team.
Helicopter Transfers
If you're short on time and want to experience the Territory the best way possible why not get to your destination by helicopter. We provide helicopter transfers to many destinations across the Top End and will connect you with the on ground operators like fishing charter companies, remote tour operators and accommodation properties to name a few. We offer helicopter transfers to Jabiru, Kakadu, Arnhem Land, Litchfield National Park, Katherine, Tiwi Islands, Dundee Beach and also to the most exclusive lodges in the Northern Territory's Top End like Wildman Wilderness Lodge and Villa La Vue.
Enquire with our sales staff.
Media, Aerial Photography & Cinematography
North Australian Helicopters has extensive experience in providing helicopters for aerial filming and photography and has been involved in the filming of numerous television series and programs including "Keeping up with the Joneses", "Troy Dann's Outback Adventures" and travel programs like Getaway.
We understand what is required to capture the perfect footage or still and your pilot will ensure the helicopter is in the right spot every time. We also coordinate reconnaissance, crew transfers and on ground travel arrangements.
Coolibah Air is the tourism branch of North Australian Helicopters Pty Ltd. NAH is owned and operated by
Milton Jones since commencement of operations in 1993.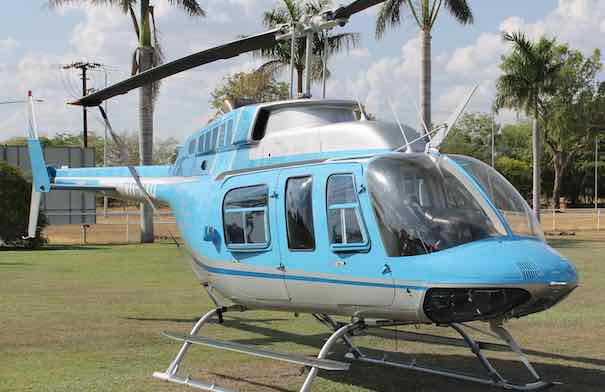 Bell 206 Long Ranger
Robinson 44
Robinson 66