Explore The Victoria River Region In Your Own Helicopter
Victoria River Wonders
Approx. 12 min scenic flight
Experience the wonders of the Victoria River district with its spectacular gorges, the red rocky escarpment soaring high above the Victoria River Valley. The aerial view of Victoria River is breathtaking but be sure to keep your eye out for crocodiles! The adrenaline is hard to contain when flying up close and alongside the sheer sandstone cliffs of the Stokes Ranges; you will be able to marvel at ancient Aboriginal rock paintings along the way.
Tour Code VRR01   Price p/p $125
Gregory National Park Scenic Flight
Approx. 20 min scenic flight
Get panoramic views of Gregory National Park, Northern Territory's second largest National Park. See Palm Valley with its deep river valleys rising up to sheer sandstone cliffs & beautiful gorges of Livistonia Palms and Native Wattle, as well as ancient Aboriginal rock paintings.
Tour Code VRR02   Price p/p $210
The Grotto Experience
Approx. 30 min scenic flight
Discover one of the most beautiful and dramatic wilderness regions in the Northern Territory from the air. The scenery is captivating, the Aboriginal history and creation stories fascinating; this tour is a must do when travelling through the region.
Exclusive upgrade, remote landing- approx. 15 min landing
Discover the oasis that is the Grotto; at this remote landing site you will have a photo opportunity and time to immerse yourself in this incredibly special haven, exclusively yours!
Tour Code VRR03   Price p/p $315
Coolibah Panorama
Approx. 50 min scenic flight
Coolibah Station is home to 'The Joneses' a family who have become recent television stars after a reality documentary based on their life on the station called "Keeping up with the Joneses" aired on national television in 2010. If you loved the series you could be one of a privileged few to experience the stunning scenery of Coolibah Station from the air. Overfly the wild Victoria River then through deep gorges and escarpments until you reach the oasis that is Coolibah Station. You will see and hear about the crocodile farm and station life before flying on to an amazing Indigenous Rockart site to marvel at the paintings thousands of years old. Please note that the station is private property and it is not possible to visit the station during your flight.
Tour Code VRR04   Price p/p $520
Coolibah Air is the tourism branch of North Australian Helicopters Pty Ltd. NAH is owned and operated by
Milton Jones since commencement of operations in 1993.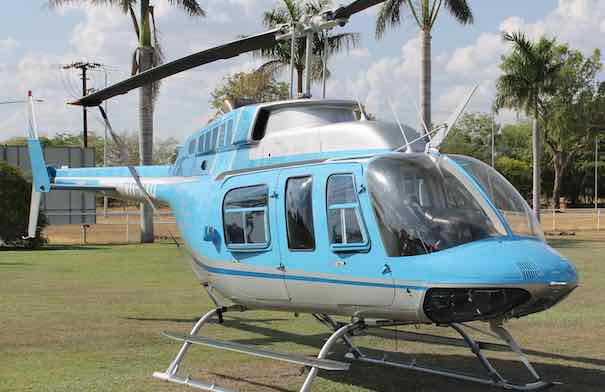 Bell 206 Long Ranger
Robinson 44
Robinson 66